No-churn Espresso Chocolate Ice Cream.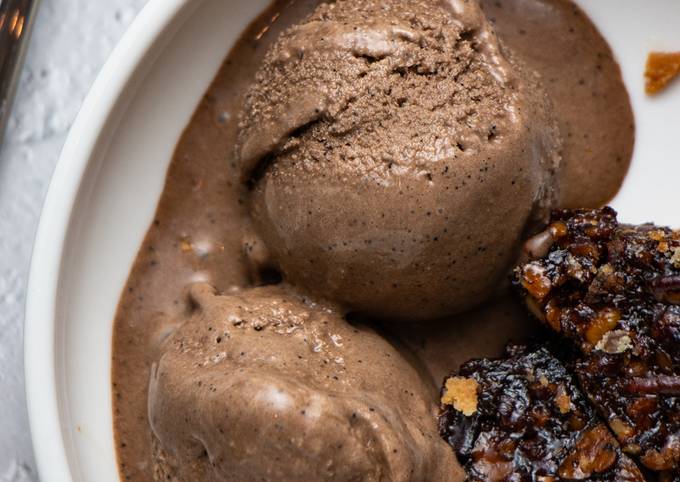 You can cook No-churn Espresso Chocolate Ice Cream using 5 ingredients and 3 steps. Here is how you cook that.
Ingredients of No-churn Espresso Chocolate Ice Cream
It's 2 cups (500 ml) of milk.
It's 1-2 tbsp of espresso powder, adjusted to your taste (skip this if you only want chocolate ice cream).
You need 1/4 cup (25 g) of cocoa powder.
Prepare 2/3 cup (134 g) of granulated sugar.
It's 1 cup (250 ml) of whipping cream, very cold.
No-churn Espresso Chocolate Ice Cream instructions
In a medium sauce pan, whisk cocoa powder, milk, espresso powder (if using) and sugar together until sugar's fully dissolved. Simmer the mixture on medium heat (do not let it vigorously boiled). Stir continuously until it is thickened and reduced by half. Remove from heat. Leave to cool completely. Stir occasionally while cooling..
In a mixing bowl, beat the cold whipping cream on medium speed until soft peak. Pour chocolate mixture into the bowl, beat at low speed until well combined. You should get soft serve at this step..
Transfer into a freezer safe container. Use a spatula to flatten the surface. Keep in freezer for at least 7 hours before serving..