Jamie Oliver's Easter Egg Shell.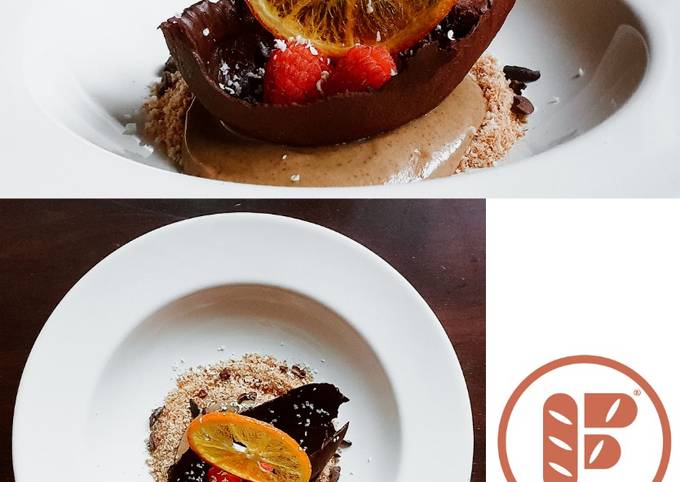 You can cook Jamie Oliver's Easter Egg Shell using 18 ingredients and 12 steps. Here is how you cook that.
Ingredients of Jamie Oliver's Easter Egg Shell
You need of Candied Orange:.
You need of Orange Preferably Organic, 1/2 Washed Thoroughly.
It's of Granulated Sugar, A Few TBSP.
It's of Eggshells:.
You need of High Quality 70% Dark Chocolate Preferably Valrhona or Callebaut, 60g.
You need Pinch of Himalayan Pink Salt,.
You need 1 of Avocado,.
Prepare of Mousse:.
It's 60 g of Cold-Brewed Coffee / Freshly Brewed Espresso Chilled,.
You need 50 g of Sweetened Condensed Milk,.
It's 50 g of Coconut Cream,.
It's 2 TBSP of Cointreau / Grind Marnier / Any Orange Rum,.
Prepare 6 of Ice Cubes,.
Prepare of Garnishes:.
Prepare of Fresh Bread Crumbs, A Few Spoonful.
It's 1 Handful of Raspberries / Blueberries / Strawberries,.
It's Pinch of Raw Cacao Nibs,.
Prepare of High Quality 30% White Chocolate Preferably Valrhona or Callebaut, For Grating.
Jamie Oliver's Easter Egg Shell step by step
Jamie Oliver's original recipe: https://www.jamieoliver.com/recipes/easter-recipes/chocolate-avocado-mousse/.
Prepared candied orange. Preheat oven to 250 fahrenheit or 120 degree celsius. Use a serrated knife, slice orange to about 1/8 inch thickness. Discard any seeds. Transfer sugar into a shallow bowl..
Dredge the orange slices into the sugar on both sides. Transfer the coated orange slices onto a baking tray lined with parchment paper. Lay another piece of parchment paper over the oranges. Using a large plate or another baking tray to weigh down the oranges..
Wack into the oven and bake for 15 mins. Remove from the oven. Remove the plate or baking tray and parchment paper. Discard the paper. Wipe any excess liquid with kitchen paper. Turn the oven temperature down to 175 fahrenheit or 80 degree celsius..
Wack into the oven and bake for 2 to 2.5 hrs. The orange slices should be dehydrated and almost translucent. Remove from oven and keep chilled until ready to use..
While the orange slices are baking, prepare the eggshells. Melt 60g of chocolate in a double boiler. Once fully melted, remove from heat and add in the remaining 20g of chocolate. Mix until the chocolate is fully incorporated and melted. This is to temper the chocolate..
Add a pinch of salt and give it a final mix. Slice the avocado into halves. Remove the seed and scoop out the flesh with a spoon as much as you can. Careful not to damage the skin. Transfer the flesh into a blender..
Brush the melted chocolate into the avocado skin with a pastry brush. Chill in the fridge for 15 mins. Remove from fridge and brush another coating of chocolate. Repeat the steps until you have a total of 3 coatings. Chill the chocolate in the fridge for at least 30 mins to 1 hour. Carefully unmold the eggshells from the avocado skin. Keep chilled in the fridge until ready to use..
While the chocolate is chilling in the fridge, prepare the mousse. Add coffee, condensed milk, coconut cream, liqueur and ice into the blender, together with the avocado. Add in any remaining melted tempered chocolate as well. Blitz until smooth. Chill in the fridge for at least 1 hour..
Assembly. Sprinkle bread crumbs in a circular motion. *To make fresh bread crumbs, simply toast bread in a 360 fahrenheit or 180 degree celsius oven. Blitz in a food processor until powder forms. I am using wholemeal bread for extra flavors.*.
Spoon the avocado mousse into the center. Place the eggshell onto the mousse. Add berries onto the shell. Place in the candied orange slice. Sprinkle some cacao nibs. Lastly, grate some white chocolate over the top. Serve immediately..
For the detailed recipe video: https://www.instagram.com/tv/CNP47zQF7Jp/.