Sig's KPC King Prawn Crostini.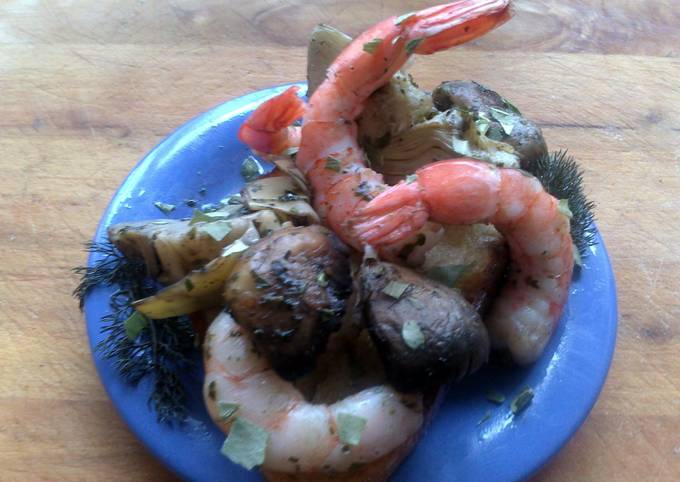 You can cook Sig's KPC King Prawn Crostini using 8 ingredients and 3 steps. Here is how you achieve that.
Ingredients of Sig's KPC King Prawn Crostini
You need 450 grams of whole cooked Kings (Tiger)prawns in shell.
It's 4 of thick sliced Italien Crostini bread, sliced diagonally.
You need 3 clove of garlic peeled and 2 halved lengthways.
Prepare 70 ml of olive oil.
You need 200 grams of small button mushrooms (white).
Prepare 14 of carciofini (baby artichokes in oil).
It's 2 tbsp of each chopped flat leaf parsley and coriander.
Prepare 1 pinch of each salt and pepper.
Sig's KPC King Prawn Crostini step by step
Please do not use frozen and defrosted prawns. Peel the prawns remove heads but keep tail intact..
Rub the ciabatta slices with the halved garlic cloves on both sides and drizzle with a little olive oil. Toast in oven or grill(broil) until slightly browned, keep hot.
Chop the remaining garlic, heat a little vegetable oil in pan and soften the garlic to a golden colour, do not let brown as it becomes bitter. Add the mushrooms, coat well with the garlic oil, season and saute for 2 minutes. Stir in the artichokes try not to break them up to much add the parsley and coriander. Season again to taste. Heat just through, arrange on top of Crostini and serve..