Grilled Cheese Madness.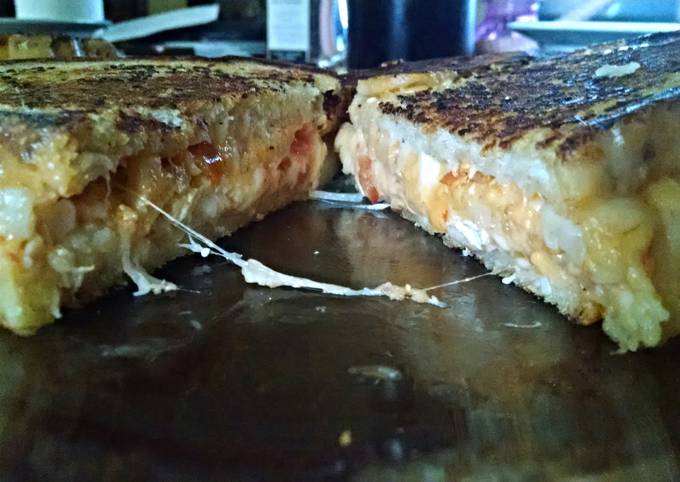 You can cook Grilled Cheese Madness using 23 ingredients and 12 steps. Here is how you cook that.
Ingredients of Grilled Cheese Madness
You need of Large Slice Fancy White Bread or bread of choice. *Make sure the slices are LARGE; trust me 😜.
It's of butter.
You need of minced garlic (I like to use alot!).
It's of onion, sliced in thin rings.
Prepare of Pre-made mac & cheese.
It's of sliced hot peppers.
You need of Buffalo Sauce of choice.
You need of Medium Salsa.
Prepare of Italian Seasoning.
Prepare of Ranch Dressing (not the powder).
It's of Cheeses.
You need of Handful Extra Sharp cheddar cheese.
It's of Handful of shredded Parmesan cheese.
Prepare of Handful shredded Three State cheddar cheese.
Prepare of Provolone cheese.
It's of Extra Sharp Velveeta cheese, sliced about 3/4" thick.
Prepare of Handfuls of shredded mozzarella cheese.
You need of Habanero cheese.
It's of Handful of shredded Italian cheese.
It's of Swiss deli cheese.
It's of You will also need.
Prepare of Oven safe/pyrex glass bowl, larger around & deeper than your finished sandwich.
It's of Flat frying "pan" or pan large enough to accommodate the glass bowl.
Grilled Cheese Madness step by step
The goods 😄.
First, prepare your 2 slices of bread by buttering one side of each. Once buttered, spread your minced garlic into the butter as if making a slice of garlic bread..
Lay 1 slice of bread butter side down on the pan & add some onions (reserve some for later).
Begin building the cheeses by adding 1 slice provolone, 1 slice swiss, & 1 slice habanero cheese.
Next add the salsa & more onion.
Now add the Velveeta, shredded mozzarella, shredded Parmesan & shredded Italian cheeses.
Yes, my friends, this is where we add the pre-made Mac & Cheese & a handful of Three State cheddar cheese on top. *For the mac & cheese, I used the Kraft "Gold Fish" kind, as I prefer a firmer pasta, but you can use whatever your favorite may be ☺.
This is where it gets spicy 🔥I like spicy, but not overboard. If you also enjoy a little heat, this is where you will add some hot peppers (I used my homemade jalapeños), & your favorite Buffalo sauce. If you are omitting the heat, just skip this step. There's just something about the flavor of Buffalo sauce & gooey cheese that I can't resist 💜 *Adding a little Ranch dressing during this step would be a great flavor kick!!.
Finally, add ALL of your remaining cheeses, top with a little more onion and then the 2nd slice of bread (butter side up). Sprinkle the Italian seasoning on top, turn heat to med-low & crack open a cold beer! 🍻.
This part is important to keep your sandwich from burning: Low & slow is the key. I start at med-low to get the ball rolling, then adjust to slightly lower as necessary. Keep your spatula handy as you will need to frequently lift the corners to see where you're at. *When you see that the buttered side down looks buttery but very VERY slightly beginning to caramelize, this is the time to dome it (place the glass bowl over the sandwich & maintain heat). The reason for the glass bowl is that it provides an even steam throughout the sandwich, allowing the mass amounts of cheese to melt without burning the bread..
Remove the bowl & use your spatula to check the bottom of the sandwich. Once you have achieved your desired brownness, flip the sandwich, sprinkle with Italian seasoning, apply the bowl, and repeat the "wait & check" process. *You will need to adjust your heat as necessary, as everyone's stove differs a bit..
Once finished, plate it and enjoy! *Caution: You may fall into a cheese coma, but it's totally worth it lol 😘.