Salmon Burgers.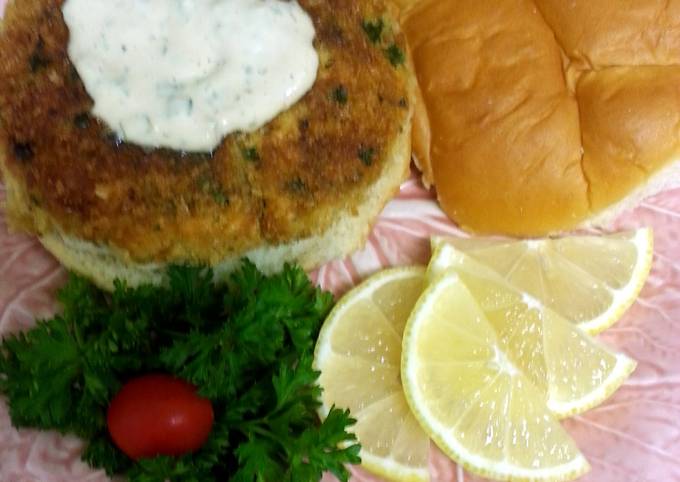 You can cook Salmon Burgers using 15 ingredients and 13 steps. Here is how you achieve that.
Ingredients of Salmon Burgers
Prepare 2 1/2 lb of fresh whole salmon fillet.
You need 3 1/2 cup of panko crumbs.
You need 6 of scallions (green and white parts separately).
You need 2 large of ribs of celery (finely chopped).
You need 1/4 cup of fresh flat leaf parsley (chopped finely).
Prepare 2/3 cup of mayonnaise plus 1/2 cup mayonnaise for sauce.
It's 1/4 tsp of pepper.
Prepare 1/4 tsp of salt.
Prepare 1/2 tsp of old bay seasoning.
It's 1/4 tsp of cayenne pepper.
It's 4 large of eggs, beaten.
Prepare 6 tbsp of olive oil.
Prepare 4 tbsp of butter.
You need 2 tbsp of balsamic vinegar.
You need 3 tsp of fresh dill (chopped finely).
Salmon Burgers instructions
Preheat oven to low broil or 500º..
Salmon Preparation***Rinse and pat dry whole salmon fillet and place on foil lined baking sheet..
Squeeze the juice of 1 lemon over entire fillet. Add 2 tsp. granulated garlic, 2 tbsp old bay seasoning, 2tbsp fresh dill (finely chopped) and 1/4 tsp black pepper over fillet..
Broil salmon fillets for 15 minutes and check doneness. Broil for another 5-10 minutes until flaky tender and cooked through..
Remove salmon from oven and let cool. Flake entire fillet off of skin and put in a large bowl..
Salmon Burger Preparation***Using fork, mix in 1/2 cup panko, the scallion whites, celery, parsley, 2/3 cup mayonnaise, 1/4 tsp salt, 1/4 tsp black pepper, 1/2 tsp old bay and 1/4 tsp cayenne with flaked salmon in the large bowl..
Refrigerate for 30 minutes..
Shape the mixture into 8 big patties. In a bowl, mix the remaining panko, and 1 tsp salt. (I added 4 tbsp finely chopped parsley just for color) In another bowl beat 4 eggs and set aside..
Coat the patties with the panko, then the eggs, then the panko again..
In a heavy skillet (cast iron works best) heat half the butter and olive oil together over medium heat. Add 3 or 4 salmon patties and cook until golden brown about 3-4 minutes each side. Drain on paper towels. Repeat with the remaining butter, oil and patties..
Sauce preparation*** Mix remaining 1/2 cup mayonnaise, scallion greens, balsamic vinegar, dill and a dash of salt & pepper. Serve sauce on bun or alongside of patties..
Garnish with lemon slices..
(I used Hawaiian hamburger buns-sweet bread-with these and they turned out amazing!).