Easy Creamy Chicken Piccata.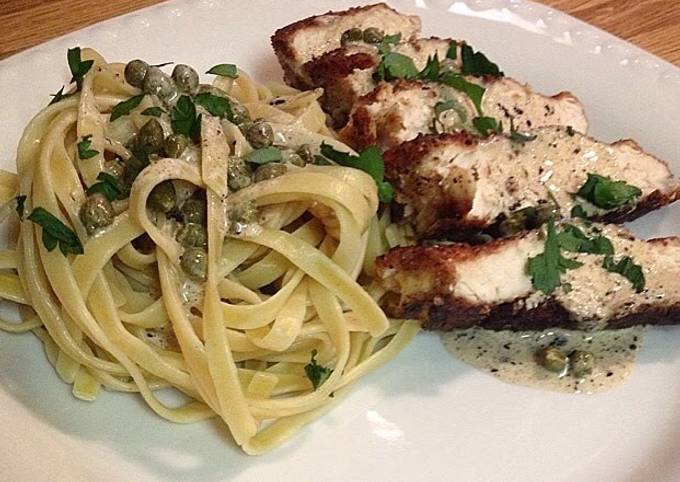 You can have Easy Creamy Chicken Piccata using 13 ingredients and 1 steps. Here is how you cook it.
Ingredients of Easy Creamy Chicken Piccata
You need 2 of Thick chicken breasts (butterflied lengthwise).
It's 16 oz of Fettuccine Noodles.
You need 1 cup of Heavy Cream.
It's 1 cup of Chicken Stock (or broth).
You need 1 cup of Dry White Wine (i.e. Pinot Grigio).
You need 2 of Lemons.
Prepare 2 1/2 tbsp of Capers.
It's 2 tbsp of Butter.
Prepare 1/2 cup of Flour.
You need 1/2 cup of Italian Breadcrumbs (optional/you can just use flour if you do not have breadcrumbs handy).
You need 1 of as needed Italian Flat Leaf Parsely.
You need 1 of as needed Extra Virgin Olive Oil.
It's 1 of as needed Salt & Pepper (I prefer Kosher salt).
Easy Creamy Chicken Piccata instructions
Get water ready to boil in pot for fettuccine. Also get a large pan warmed to med-high heat with the butter and a couple tablespoons Olive oil. After chicken breasts are butterflied, generously salt and pepper each side and then dredge the seasoned cutlets in the flour/breadcrumb mix. When pan is hot add the chicken and cook about 3-4 minutes each side (don't touch while cooking) Once browned on each side transfer to plate an set aside. Meanwhile cook noodles to package directions/drain. In same pan that chicken was cooked in (turn to med low) add the wine & chicken stock while stirring up the brown bits on pan bottom letting sauce reduce by about 1/2. Squeeze the juice of 2 lemons in. Next add the heavy cream, capers and more salt & pepper to taste. Sauce will thicken, continue to stir. Plate the noodles and sliced chicken breast. Drizzle the pan sauce over both and top with the chopped parsley..