Asian Noodle Salad. Dang Cold Asian Noodle Salad Recipe. Asian Noodle Salad. this link is to an external site that may or may not meet accessibility guidelines. Zucchini noodles with cabbage, carrots, red bell pepper, green onions, tossed with a sesame rice vinegar dressing.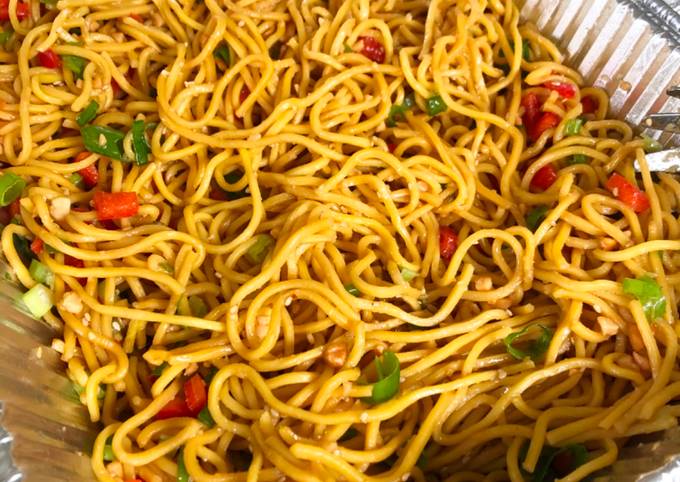 My first taste was at Costco. A delicious noodle salad recipe from Jamie Oliver, this Asian salad is fresh, spicy and zing delight and can be enjoyed for lunch or dinner. With spicy minced beef and prawns. You can cook Asian Noodle Salad using 10 ingredients and 4 steps. Here is how you cook that.
Ingredients of Asian Noodle Salad
It's 1/2 cup of canola.
You need 1/2 cup of sesame oil.
Prepare 2 teaspoons of crushed red pepper.
It's 1/2 cup of honey.
It's 1/2 cup of soy sauce.
You need 1 pound of chinese egg noodles (or spaghetti) cooked.
Prepare 4 tablespoons of cilantro.
You need 3/4 cup of chopped peanuts.
You need 1/2 cup of scallions sliced.
You need 1 of red pepper chopped.
Asian Noodle Salad – A simple delicious recipe for asian noodles salad with cucumber, carrot, onions pepper and sesame seeds marinated in ginger vinaigrette. This vegan make-ahead noodle sal… Learn how to make Asian Noodle Salad. For the salad: Bring a pot of water to a boil. Cook the spaghetti to al dente according to the package directions.
Asian Noodle Salad step by step
Heat oils and red pepper in small pot.
Remove from heat and add honey and soy sauce. Mix to combine.
Add sauce to cooked spaghetti and marinate for at least 8 hours (the longer the better).
Mix in remaining ingredients and serve cold..
Easy Asian noodle salad is made with sweet potato noodles, and fragrant spicy peanut sauce and topped with crunchy peanuts, crisp fresh vegetables, and peppery Thai basil. Asian Noodle Salad with rice noodles, kale, cabbage, red peppers, green onions, cilantro, and a delicious creamy almond dressing. Asian Noodle Salad with Peanuts and MintNoble Pig. Asian Noodle Salad with Spicy Peanut Dressing. This Asian Noodle Salad with sliced red cabbage, carrots and radishes in spicy peanut dressing is ideal for picnics, barbecues or lunch!