California Farm One Hour Turkey Roast.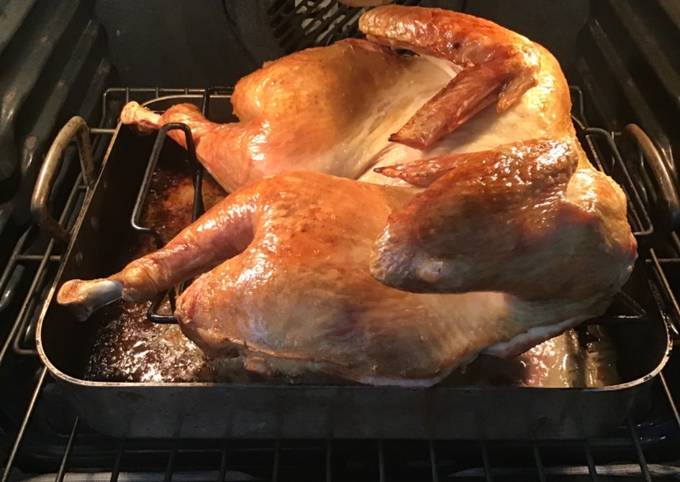 You can have California Farm One Hour Turkey Roast using 19 ingredients and 10 steps. Here is how you achieve it.
Ingredients of California Farm One Hour Turkey Roast
You need 1 of fresh or frozen turkey, 16 pounds.
You need 2 slices of bacon to cover turkey breasts.
You need 2 Tbs of olive oil brushed on skin.
Prepare of turkeyrub for inside meat: tsp hot paprika, tsp sage, tsp thyme, tsp rosemary, 2 Tbs soft butter.
You need of HalfCup green beans with slivered almonds.
Prepare of Halfcup small boiler onions with cured olives.
Prepare of Halfcup whole cranberries, fresh, frozen or canned, half a cup wild rice.
Prepare of Halfcup roasted cubed pumpkin, pumpkin seeds, tsp maple syrup, pinch of pepper, Tbs butter.
You need of Halfcup croutons for stuffing.
You need of halfcup diced onion for stuffing.
It's of halfcup chopped parsley for stuffing.
Prepare of halfcup chopped celery for stuffing.
You need 1/2 Tsp of sage, 1/2tsp ground pepper, 1/2 tsp salt, Tbs butter.
You need of giblets chopped for gravy.
You need cup of chicken broth for gravy.
You need of halfcup fresh shitake mushroom slices for gravy.
You need Tbs of butter, Tbs flour, Tbs corn starch, 2 Tbs cold water.
Prepare of Turkey pot pie: 3 Tbs flour, 1/4 cup each frozen peas, carrots, onion, mushroom, celery, tsp sage.
You need of Cost: $2.00 a pound fresh at the farmers market, $8 other ingredients, $40 for 32 meals, $1.25 per meal.
California Farm One Hour Turkey Roast instructions
Thaw the turkey in cold water with Tbs sea salt, dry, use scissors to cut the ribs along the back bone on both sides, starting at the tail end, remove back bone (3/4 pound), lay bird with breasts down on cutting board, split breast bone..
Turn bird over, press breasts till bird is flat to facilitate even baking. Rub inside with turkey rub, then lay breast up on roasting rack, cover breasts with bacon, tuck bacon under wings, brush olive oil on skin..
Preheat convection oven to 450F degrees, place bird on turkey roasting rack in center of oven, use lower baking rack trays for wild rice with cranberries, boiler onions, green beans, pumpkin, bake 30 minutes, remove bacon, brush breast with olive oil, reduce temperature to 350F degrees, bake 30 more minutes, lift on warm platter, keep covered, rest 25 minutes..
Make stuffing: melt butter, fry herbs and spices in turkey roast pan drippings, add veggies, add chopped bacon strips covering turkey breast, add croutons, stir..
Make gravy: in cast iron skillet, brown chopped giblets in butter, add Tbs flour, 1/2 tsp sage, pepper, salt, 1/2 cup shitake mushrooms, brown, add cup of bouillion, add Tbs cornstarch in 2 Tbs cold water, bring to boil, stir till thickened..
Slice one turkey breast (2 pounds) across the grain in 1/2 inch slices, slice one leg and thigh (1pound) along the bone in 1/2 inch pieces, two slices per person is half a pound, one meal. Serve white and dark meat on seperate platters, slice other breast and leg meat as needed, serve with other trimmings, stuffing, gravy, enjoy..
To make turkey gulash, use the leg quarters only: in dutch oven, debone, cube leftover leg and thigh meat into cups, equal amount of cups of chicken broth, diced onion, frozen peas, clove of garlic, Tbs hungarian sweet paprika, simmer an hour, add Tbs corn starch dissolved in 2 Tbs cold water, freeze individual portions. Save bones for soup..
To make turkey soup: in dutch oven, cover fresh back bone, neck, carcass, leg bones with cold water, one cup at a time, add cube of chicken bouillion per cup, Tbs chopped celery per cup, Tbs of chopped onion per cup, Tbs dried black beans per cup, Tbs of sliced carrots, peas and corn per cup, Tbs cilantro per cup, bring to boil, simmer three hours, remove bones, pack in 12 meal portions, freeze. Zero waste: Dissolve bones in garden doggy outhouse..
To make smoked turkey breast: use leftover breast, marinade overnight in Tbs rice vinegar, Tbs soy sauce, 2 Tbs amontillado sherry, smoke over wet oak wood one hour, slice thin slices for sandwiches. Freezes well if kept airtight..
To make turkey pot pie: use leftover turkey wing meat pieces and skin, chop fine. Per cup, add 1/4 cup of frozen peas, 1/4 cup sliced carrot, 1/4 cup diced onion, 1/4 cup sliced mushrooms, Tsp sage, Tbs celery. Mix together. Make enough dough per cup of filling: tsp baking powder,Tbs olive oil, 2 Tbs flour, egg, mix, let rise, roll out into three equal pieces, put dough in mini bake form: one bottom, one sides, one on top. Bake 30 minutes at 425F degrees. Freezes well..