Chicken and Green Pepper Salad.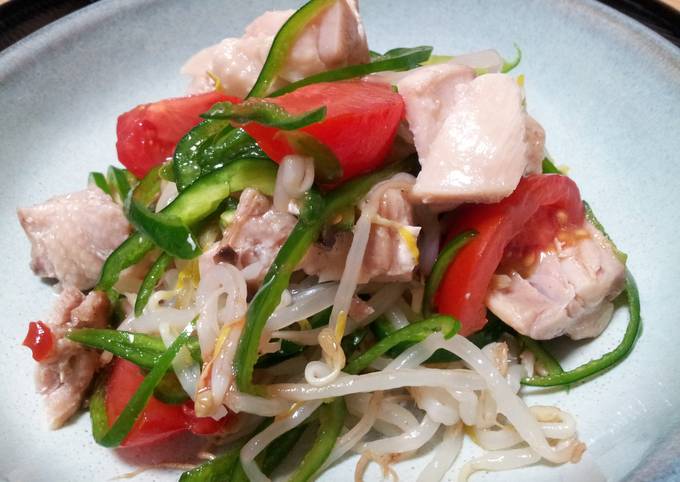 You can have Chicken and Green Pepper Salad using 6 ingredients and 6 steps. Here is how you achieve that.
Ingredients of Chicken and Green Pepper Salad
It's of Chicken Thigh (a little over 1/2 pound).
It's of Green Bell Peppers (if American ones, 1 is enough).
You need of Bean Sprouts.
You need of Tomatoes.
You need of Sake (Japanese rice wine).
You need of Salad Dressings of your choice.
Chicken and Green Pepper Salad step by step
Boil water in a pot and add bean sprouts. Boil for 1 min. Drain, squeeze water and chill..
Salt & pepper the chicken lightly and place it on a microwavable dish. Sprinkle Sake over the chicken, wrap and microwave it for 5 min (or until the chicken is fully cooked)..
Thinly slice green peppers..
When chicken is done, let it cool and cut into bite-size pieces. (If you have time to chill the chicken in a fridge, it tastes better.).
Add chilled bean sprouts, sliced green pepper and chicken in a bowl. Add some salad dressing of your choice and mix well..
Notes: My personal favorite is this PIETRO dressings! But when I use this, I usually add some rice vinegar to add more vinegary flavor to the salad..