California Farm Foie Gras Pate-it oinks.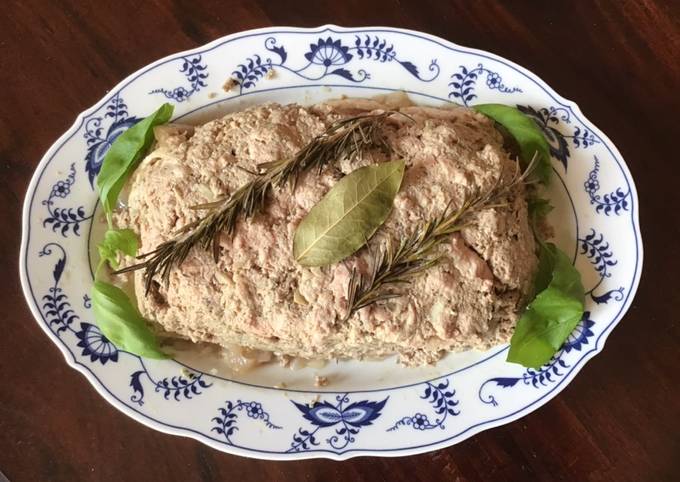 You can have California Farm Foie Gras Pate-it oinks using 24 ingredients and 4 steps. Here is how you cook that.
Ingredients of California Farm Foie Gras Pate-it oinks
You need Pound of fresh pork shoulder, fat removed.
Prepare Pound of fresh pork livers, mixed with 2Tbs pork lard.
It's of Pound fresh pork belly bacon, no rind.
It's of Quarter pound thin sliced fresh pork belly bacon, no rind.
Prepare Half of pound chopped sauteed Shallots.
You need Tbs of bread crumbs.
It's clove of mild Garlic.
You need 2 of Whipped fresh farm eggs.
You need Tsp of black pepper plus Tbs freshly cracked black peppercorns.
You need 5 Tbs of brandy.
You need 2 Tbs of cream.
It's 2 of laurel leaves, twig of fresh rosemary.
Prepare 2 tsp of salt.
You need of To make gelcoat:.
It's Cup of cold chicken broth.
You need Tbs of cornstarch.
Prepare of Tools.
It's of Creuset thick enameled bread form, or metal breadform, put in roasting pan filled with cold water.
You need of Aluminum foil to cover the top.
It's of Brick to weight down the mixture inside the breadpan.
Prepare of large oven roasting pan filled with water to put the breadpan in.
You need of Probe thermometer for interior temperature measurement.
Prepare of Cost.
You need of Pork shoulder $1.50, pork belly $4, pork liver $2, spices 50 cents, brandy 50 cents, $8.50 for 3+ pounds, $2.80 per pound, 14 cents per sandwich.
California Farm Foie Gras Pate-it oinks step by step
Chop each ingredient for coarse country pate, or puree in food processor for smooth foie gras pate: pork meat, pork liver mixed with pork lard, pork bacon, sauteed and chopped sauteed shallots and chopped garlic. Mix evenly. Thoroughly mix in cracked peppercorns, herbs, whipped eggs, breadcrumbs, 4 Tbs brandy, cream, spices..
Cover inside of breadpan with thinly sliced fresh pork belly bacon. Load with meat mix, cover with bacon, use extra strips if necessary. Bayleaf and rosemary sprig herbs on top.Now cover with aluminum foil. Put pans in waterbath. Rest 4 hours in oven at room temperature..
Turn oven to 185F degrees, Bake mixture three hours. Insert probe thermometer to check interior temperature, must be over 155F degrees. Turn oven off. Put brick on top of aluminum foil on top of mixture, cool overnight in oven. Next morning, make gelcoat: remove brick, foil, bay leaf, rosemary, pour off any liquid. Mix Tbs cornstarch with cup of cold chicken stock and Tbs brandy, bring to boil, simmer till thick, pour over the mix, put in refrigerator and solidify, 2 hours..
When gelcoat is solid, Release carefully from mold upside down, pack mousse pate in one pound tubs, cut country pate in six thick slices, half pound each, pack one per quart freezer bag, freeze. Serve sliced thin or spread on toast or crackers with capers, french mustard and small pickle. Also great on sandwiches on a lettuce leaf. Enjoy..