Mike's New England Clam Chowder & Homemade Croutons.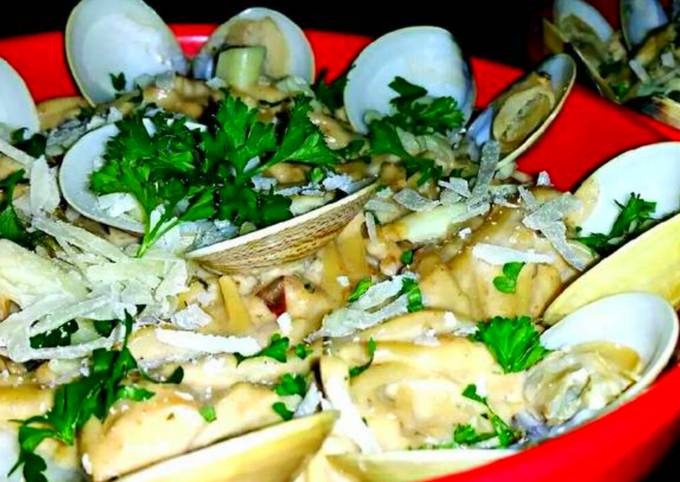 You can have Mike's New England Clam Chowder & Homemade Croutons using 17 ingredients and 15 steps. Here is how you cook it.
Ingredients of Mike's New England Clam Chowder & Homemade Croutons
It's of Can Baby Clams [reserve all juices].
It's of Chicken Broth.
Prepare of Heavy Cream.
It's of Celery [chopped with leaves].
It's of White Onion [chopped].
It's of Potatoes [peeled and chopped].
You need of Garlic Cloves [fine chop].
Prepare of Dried Thyme.
Prepare of Old Bay Seasoning.
Prepare of Crushed Saffron Threads.
It's of Salt & Black Pepper [to taste].
You need of Bay Leaves [pull leaves after simmer].
Prepare of Butter.
You need of Fresh Parsley [as needed for garnish].
You need of Baguette Loaf [+ 2 tbs butter – dash garlic oil or powder – parsley].
It's of AP Flour.
You need of Corn Starch & Water [for thickener – optional].
Mike's New England Clam Chowder & Homemade Croutons step by step
Here's what you'll need. Flour and Saffron not pictured..
Fine chop your vegetables. Add butter, onions, celery, garlic, thyme, black pepper, salt, bay leaves and Old Bay to your pot. Stir well and simmer for 10 minutes until vegetables are slightly translucent. Stir regularly. You don't want to burn your garlic..
Add your flour and stir well and often for 5 minutes. You're burning out that flour taste..
Drain your clams and reserve all fluids. Set clams to the side..
Add all fluids to your pot. Peel and chop potatoes into 1/2" cubes. Place them in pot. You're peeling and chopping your potatoes last since they will brown unless soaked in water..
Simmer for 20 minutes or, until your potatoes have softened. Add salt and pepper to taste..
At this point you'll have the option to thicken your chowder. You'll do it at this point exactly since as the potatoes soften, they will thicken the broth. To thicken: Add 2 tablespoons Corn Starch to 1 tablespoon water in a small bowl and mix well. Slowly add your starch mixture and allow pot to simmer back up. It'll thicken up quickly. Add additional starch to thicken more. I usually add the full 2 tablespoons but it's your call..
Add your clams, stir and simmer 1 minute. No longer or you'll have extremely chewy clams. Pull pot from heat source and cover..
For the croutons: Slice baguette bread into 1" cubes. Add 2 tablespoons butter and a dash of garlic oil or, couple dashes of garlic powder a pan and heat. Place croutons in heated butter. Fry for 3 minutes or, until crispy and coated. Fine chop parsley and add to pan. Mix quickly and well. Drain croutons on paper towels. Serve immediately..
.
.
.
.
Garnish bowl with fresh parsley and place your croutons on top. Enjoy!.
Feel free to garnish with fresh clams as well. Just steam clams in a slight amount of water until they open. Discard any that don't open..