Black Forest In a Jar.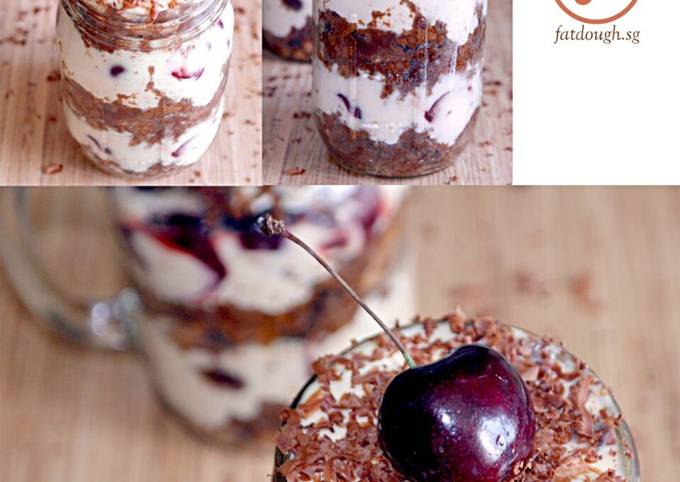 You can have Black Forest In a Jar using 17 ingredients and 14 steps. Here is how you cook that.
Ingredients of Black Forest In a Jar
It's of Cake:.
Prepare of Unsalted Butter Softened, 60g + More For Greasing.
Prepare 210 g of High Quality Dark Chocolate Preferably Valrhona,.
Prepare Pinch of Sea Salt,.
Prepare Pinch of High Quality Instant Espresso Powder,.
It's of Egg Whites, 150g Approximately 5 Eggs.
Prepare Pinch of Cream of Tartar,.
It's 120 g of Demerara Sugar,.
It's of Egg Yolks, 100g Approximately 5 Eggs.
You need of Fillings:.
It's 434 g of Maraschino Cherries Canned,.
You need 1/8 Cup of Kirsch,.
It's 500 ml of Heavy Whipping Cream,.
You need of Icing Sugar, 1 TBSP Adjust To Preference.
Prepare of Assembly:.
You need of High Quality Dark Chocolate Preferably Valrhona, For Garnishing.
It's of Fresh Cherries, For Garnishing.
Black Forest In a Jar instructions
Prepare the cake. Preheat oven to 190 degrees celsius or 375 fahrenheit. Lightly grease the sheet pan lightly with butter and lined with parchment paper. Melt chocolate on a double boiler. Once chocolate has melted, remove from heat..
Add in butter and mix until the butter has completely melted. Add in salt and espresso and stir to combine well. Set aside. In a large mixing bowl, whisk together egg whites and cream of tartar until soft peak forms. While still whisking, gradually add in sugar. Keep whisking until stiff peak forms. It should be glossy, almost double in volume and the sugar has melted..
Gradually add in egg yolks while continue whisking. Once all the egg yolks have been incorporated, gradually add in the melted chocolate mixture, 1/3 portion at a time. Switching to a spatula, gently fold the mixture together. Continue folding gently until well combined. *Do not overmix.*.
Pour the cake batter into the sheet pan. Wack into the oven and bake for about 20 mins. *When you insert a skewer into the cake, the skewer should come out clean.* Remove from oven and set aside to cool completely..
You can of cos make a proper round cake. Divide the batter into 3 equal portions and transfer them into three 8" greased lined round spring form cake pans.*.
Prepare the fillings. In a skillet over medium heat, add cherries and 1/4 cup of the cherries syrup. Bring it up to a simmer. Once the syrup reduced and coats the back of a spoon, add in kirsch. *Careful as it may flambé.*.
Cook until the alcohol has evaporated. Remove from heat, transfer onto a strainer over a bowl to remove any excess liquid. Set aside to cool down. Do not discard the liquid. Once everything is cooled, add 5 TBSP of the cherries syrup kirsch mixture into a large bowl..
Add in whipping cream and icing sugar. Using a hand or stand mixer, whisk until stiff peaks form..
Assemble the cake. Run a sharp knife along the sides of the cookie sheet pan. Gently and carefully unmold the cake from the sheet pan. Using a cookie cutter, cut out the cake into discs..
Your cookie cutter has to be slightly smaller than the circumference of your mason jars.* *Do not discard the leftover cake.* Crumble the leftover cake into fine crumbles and set aside..
Gently push the cake to the bottom of the mason jar. Drizzle in some of the cherries syrup kirsch mixture. Scoop the cream mixture and spread on top of the cake..
Place some cherries over the top. Repeat the process until the mason jar is full. You should end up with the cream mixture layer at the top..
Not to worry if your cake discs break while stacking inside of the jar. It will all look rustic at the end. At this point, you can choose to keep chilled in the fridge until ready to serve.* When about to serve, grate some dark chocolate over the top..
Lastly, top it off with cherries. Repeat the steps for the remaining mason jar. Serve immediately..