Tiramisu Cake.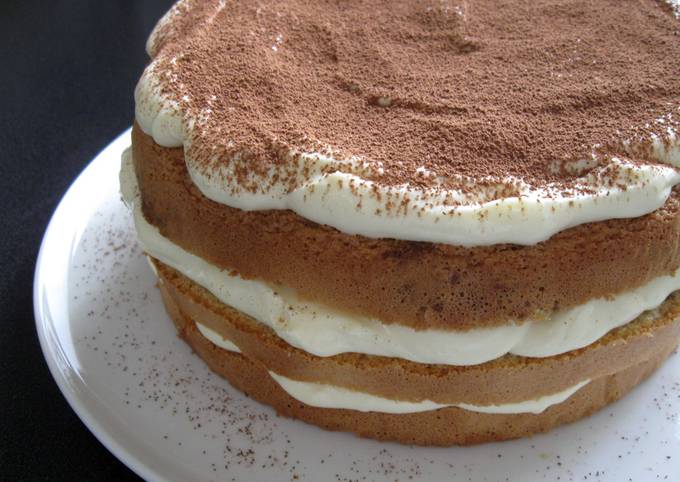 You can have Tiramisu Cake using 23 ingredients and 13 steps. Here is how you cook that.
Ingredients of Tiramisu Cake
Prepare of <Basic Sponge Cake>.
You need 4 of Eggs.
You need 90 g (100 ml) of Caster Sugar.
It's 70 g (120 ml) of Self-Raising Flour.
Prepare 2 tablespoons of Corn Starch Flour.
Prepare 20 g of Butter *melted.
You need of <Coffee Syrup>.
You need 1/2 cup of Espresso *OR 1/2 cup Hot Water and 1 tablespoon Instant Coffee Granules.
Prepare 1 tablespoon of Caster Sugar.
Prepare 1 tablespoon of Marsala Wine *OR your favourite liquor such as Brandy OR Rum.
You need of <Topping>.
Prepare 1 teaspoon of Cocoa Powder.
Prepare 1/2 teaspoon of Ground Coffee.
You need of <Filling>.
Prepare Bowl of 1.
You need 2 of Egg Whites.
Prepare Bowl of 2.
You need 200 ml of Thickened Cream.
Prepare Bowl of 3.
You need 2 of Egg Yolks.
Prepare 1/4 cup of Caster Sugar *do not add it yet….
You need 2 teaspoons of Gelatine Powder *soaked in 2 tablespoons Water.
You need 250 g of Mascarpone.
Tiramisu Cake step by step
Bake 'Basic Sponge Cake'. See https://cookpad.com/uk/recipes/11246272-basic-sponge-cake.
To make Coffee Syrup, combine Espresso (OR strong coffee), Sugar and Marsala Wine in a small bowl..
In another small heat-proof bowl, place 2 tablespoons Water and sprinkle Gelatine Powder over, and soak for 10 minutes..
To make Filling, prepare three bowls. Place Egg Whites in Bowl 1, Cream in Bowl 2, and Egg Yolks in Bowl 3..
Add 2 tablespoons Cream from Bowl 2 to the soaked Gelatine, and heat in the microwave for 20 seconds or until completely melted (DO NOT boil)..
Bowl 1: Using the electric beaters, beat Egg Whites until stiff peaks form..
Bowl 2: Using the same electric beaters, whip Cream. Do not worry some Egg White gets in the cream as you will mix everything together later..
Bowl 3: Add the Caster Sugar to the Egg Yolks, and beat using the same electric beaters until pale and thick. Add Mascarpone and mix well. Then add the hot Gelatine mixture and quickly mix well..
To the Mascarpone mixture in Bowl 3, add the whipped Cream and mix well. Then add the Egg Whites and gently fold into the mixture..
Now you can assemble 'Tiramisu Cake'..
Slice the cooled sponge cake into three pieces. Place 1 sponge piece on a plate. Using a spoon, drizzle Coffee Syrup over the sponge evenly, then spread with one third of filling..
Place the second sponge piece, drizzle Coffee Syrup over, and spread with one third of filling..
Drizzle Coffee Syrup over the cut side of the top sponge piece, then place it on top right way up. Spread with the remaining filling. Refrigerate for 1 to 2 hours. Before serving, dust the top with Cocoa Powder mixed with Ground Coffee..